Jelly Roll Morton and his vaudeville partner Rosa Brown
Chicago, Illinois, c. 1914
Jelly Roll Morton is shown in blackface with Rosa Brown, his partner in a vaudeville show. Her name is sometimes given as Rose or Rosie.

Archived newspaper adverts and reviews indicate that they performed a comedy, music and dancing act billed as Morton & Morton (sometimes advertised as Moten & Moten or Moton & Moton).

Together they appeared at vaudeville theatres in Greenville, Texas (August 1913); Oklahoma City, Oklahoma (August 1913); Louisville, Kentucky (May 1914); Cincinnati, Ohio (May 1914); Dayton, Ohio (May 1914); Indianapolis, Indiana (June 1914); Detroit, Michigan (June 1914); Philadelphia, Pennsylvania (July 1914), and Chicago, Illinois (August 1914).
The reverse side of the photograph has the following handwritten text: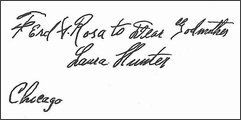 Anita Gonzales gave the original photograph (measuring 6½-inch by 4½-inch) to award-winning jazz writer Floyd Levin in 1950. Floyd has since donated it to the Historic New Orleans Collection. He has kindly provided a full-sized professional copy for the Iconography Library.

The photograph and inscription appear in Classic Jazz: A Personal View of the Music and the Musicians, by Floyd Levin, page 122. [28]

The photograph, which accompanied an article titled: I Drove Jelly Roll Morton's Cadillac! by Floyd Levin, was first published in Jazz Journal Vol. 4, No. 2, dated February 1951. [29]

Shown in Mr. Jelly Lord (1980) by Laurie Wright, page 3, and in Oh, Mister Jelly (1999) edited by William Russell, pages 334 and 477.
courtesy of Floyd Levin

© 2004 Historic New Orleans Collection